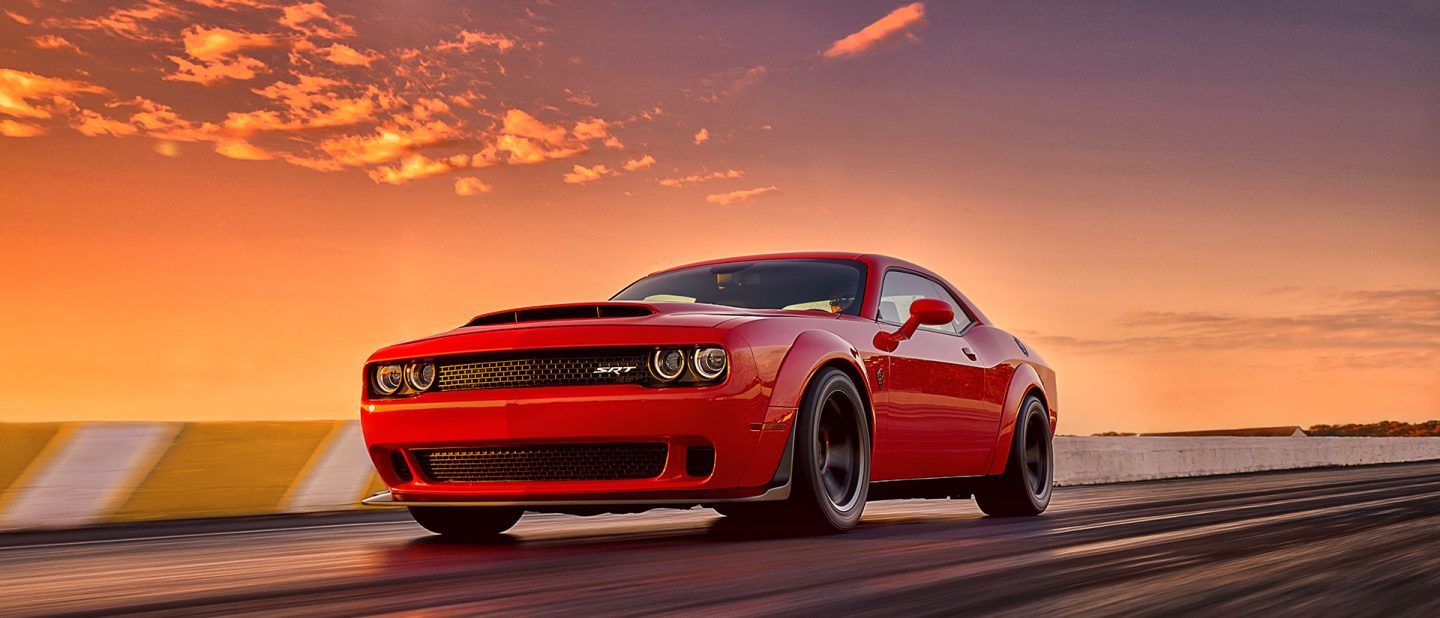 There are muscle cars…and then there's the 2019 Dodge Challenger SRT Demon. Often times, there are those illegally altering their vehicles to give them an extra bit of pace. These souped up cars are then driven on the road with fellow pedestrians and drivers. Should one get pulled over by the authorities for having an illegally-fashioned car, trouble may arise. Fortunately with the 2019 Dodge Challenger SRT Demon, there's no longer a need to alter one's vehicle at all.
It's the fastest quarter-mile production car ever made. Not only that, but it's the only legal drag car in the world that can be driven on a track and compete alongside 'track only' drag cars. From a standstill, this vehicle reached 60 miles-per-hour in an eye-popping 2.3 seconds. Even more impressive, the famed quarter-mile time equaled 9.6 seconds (at 140 miles-per-hour). Suffice it to say, but the 2019 Dodge Challenger SRT Demon packs a mighty punch. Estimates for a base price run north of $84,000. Depending upon the package chosen, overall price could skyrocket into the six-figures.
This car holds a 6.2-Liter HEMI V-8 engine with 770 lb.-ft. of torque and 840 HP. As a result, it's unsurprisingly the most powerful V-8 engine ever crafted for legal street use. It includes a functional air-grabber, and also torque reserve launch system. The air-grabber hood scoop is imperative to overall performance. It constantly shuttles in cool air to the high-performance engine. The scoop itself is a whopping 45 square-inches — making it one of the largest hood scoops of any vehicle. A cooling fan also exists which enables consumers to bring the temperature down within the engine's location.
Aesthetically, this car is sleek and modern. When careening down the street or track, it almost appears as if its gliding rather than simply moving compared to the average car. Many of the interior elements feature a darker shade of leather rather than a lighter one. There's also the iconic 'Demon logo' which fits neatly within varying parts of the cabin. There are heated/ventilated front seats made available. For those who enjoy music, one can purchase a 19-speaker soundsystem. Lastly, the steering wheel is fashioned with a suede material.
This car is absolutely magnificent. For those who have a need for some real speed, the 2019 Dodge Challenger SRT Demon likely is your vehicle. The associated costs of this vehicle are relatively low when considering the transcendent technology embedded within overall performance and style.

Image Sources: Dodge