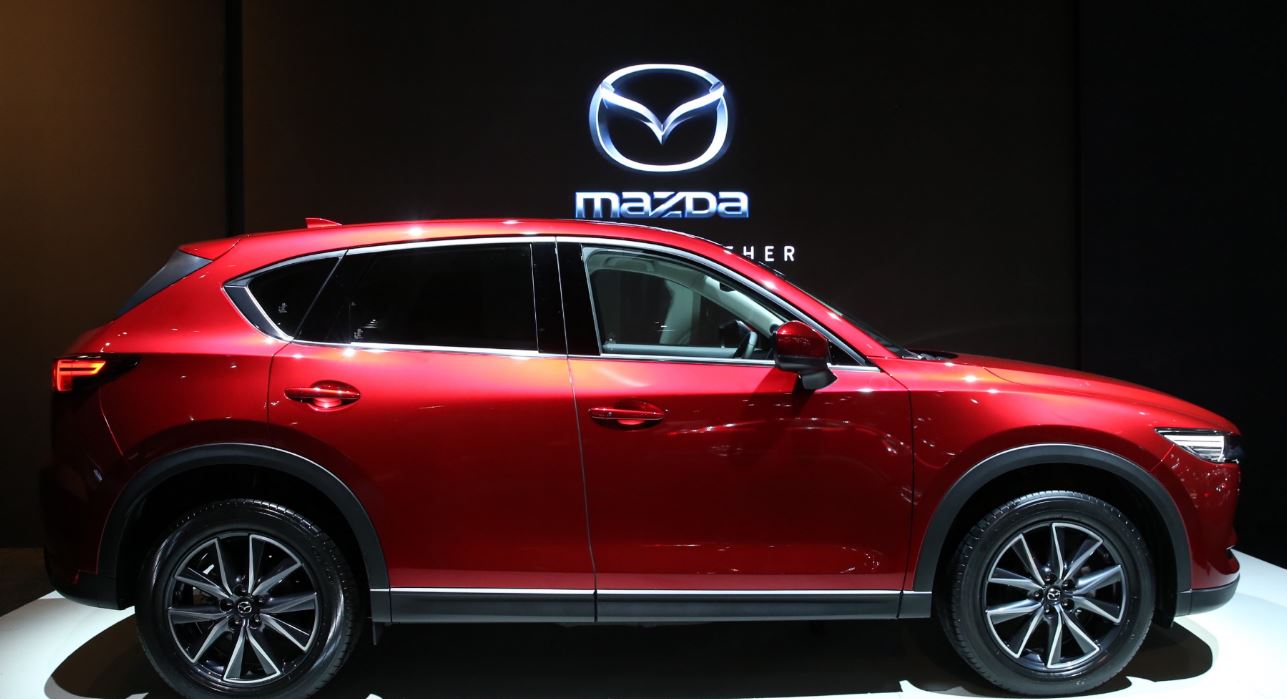 Who doesn't love a compact SUV?  In recent times, prospective car buyers have been floored in developments pertaining to what many perceive to be 'big' cars. There are unfair stereotypes often associated with SUVs. Many proclaim them to be bulky in nature, and thus difficult to operate. While these statements may or may not be true, car companies have worked tirelessly to provide compact SUVs. These vehicles are smaller than their parent models — though still hold many of the traits people love about general-sized SUVs. When in search of a top 2018 compact SUV, look no further than the 2018 Mazda CX-5.
There are six configurations of the 2018 Mazda CX-5: Sport ($24,150), Sport AWD ($25,450), Touring ($26,215), Touring AWD ($27,515), Grand Touring ($29,645), and Grand Touring AWD ($30,945). On average, these vehicles receive a respectable 31 miles-per-gallon estimate on highway driving, and 25 miles-per-gallon within city driving. Performance wise, each standard model is equipped with a 2.5-Liter four-cylinder engine. It includes six-speed automatic transmission and 187 HP. A newly integrated cylinder-deactivation technology was crafted to improve fuel economy.
The exterior body of the vehicle is truly striking. Designers and engineers worked hand-in-hand to create a car emanating with opulence and beauty. Sleek angles are morphed together exquisitely well with brash lines. Mazda's goal was to create a car that resembled movement even if stationary. They've seemed to achieve this quite well.
Standard 2018 Mazda CX-5's offer four-speaker systems, two USB ports, Bluetooth capabilities, rear-cross traffic alert, low-speed automatic braking, a rearview camera, blind-spot monitoring, voice-command activation, and a 7″ touchscreen. Additional specifications (more USB ports, 6/10-speaker system, moonroof, lane-warning assist, lane-departure warning) can be had with additional fees. The interior of the cabin itself is both spacious and comfortable. In particular, the first row offers ample legroom for the driver and passenger.
The Mazda CX-5 has 30.9 cubic feet of cargo space with the rear seats in their normal position. With them folded, space expands to 59.6 cubic feet. These metrics are rather impressive when compared to fellow competitors in its class.
In terms of safety, the Mazda CX-5 scores very strongly. The respected IIHS offered 'GOOD' scores on all five of its major safety categories. The NHTSA issued a 4-star overall rating. This included 5-star marks for both side crash and frontal crash.
The 2018 Mazda CX-5 sold more units in January of 2018 than every other Mazda vehicle combined. Duly, there have been multiple publications hyping up this model as one of the best in its entire class. There's a multitude of facets to absolutely love about this car. There's space in the interior cabin for passengers, the driver, and small items (whether in compartments or in the trunk). Duly, the fuel economy — coupled with the reasonable prices — allow the customer to secure a regal yet practical vehicle. In the end, don't we all want a good-looking, safe car that runs exceptionally well?
*Feel free to check out one of our sponsored partners' sites to learn more. 

Image Source: Anadolu Agency/Getty Images