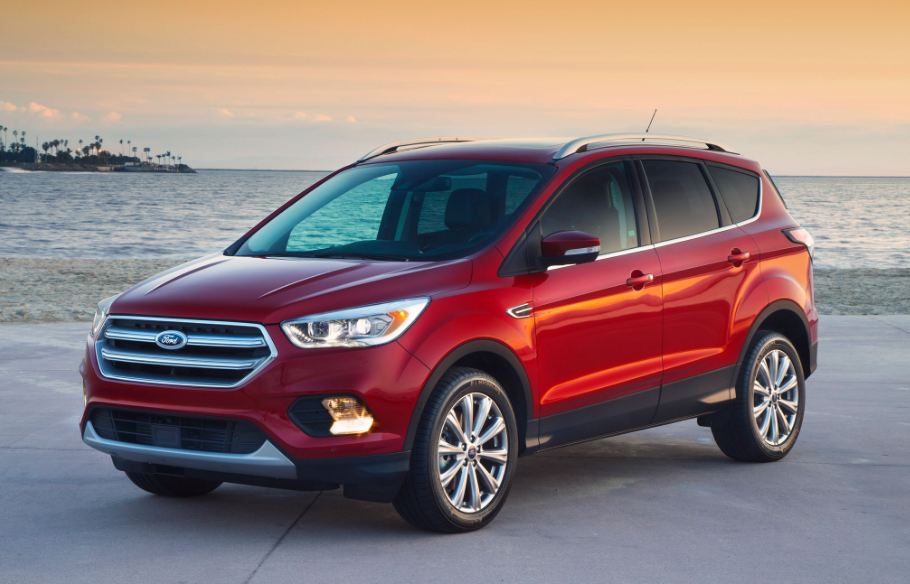 When hunting for the perfect compact crossover SUV, only one choice truly makes sense: The 2020 Ford Escape. This vehicle offers prospective car buyers a plethora of sensible and effective characteristics. Whether it's a trip down the coast, or a short drive to a favorite restaurant, the '20 Ford Escape will get the job done.
Choices
Escape S: $24,885 (starting price)
Escape SE: $27,095 (starting price)
Escape SE Sport Hybrid: $28,255 (starting price)
Escape SEL: $29,255 (starting price)
Escape Titanium Hybrid: $33,400 (starting price)
Available colors: Canyon Ridge Metallic (Red), Ingot Silver Metallic, Lightning Blue Metallic, Magnetic Metallic (Gray), Oxford White, Shadow Black, White Gold Metallic.
Performance
Escape S: An estimated 21 miles-per-gallon within city driving, and 29 miles-per-gallon on the highway
Escape SE: An estimated 23 miles-per-gallon within city driving, and 30 miles-per-gallon on the highway
Titanium: An estimated 23 miles-per-gallon within city driving, and 30 miles-per-gallon on the highway
There have been multiple developments as it pertains to the sheer power of these three models. One can personalize each individual car with a specific motor tailored to fit the driver's needs. The SE and Titanium are standardly equipped with the 1.5L EcoBoost. It is the most efficient engine an Escape can has — as it combines both turbocharging and direct injection. One can also opt for the Auto Start-Stop Technology. This helps to essentially reduce unneeded fuel consumption and the appearance of emissions into the atmosphere. The engine will shut off once the car comes to a complete start. It will then restart as soon as the driver steps off the break pedal, or hits the gas. The SE and Titanium also offer a 2.0L EcoBoost engine.
Unlike the SE and the Titanium, the S utilizes a 2.5L 4-cylinder engine. All three models are now enhanced with more power compared to their previous makes. Each model also has Curve Control. This facet can sense if if the driver is accelerating at too fast a speed — particularly within adverse driving conditions (such as when its raining or sandy). Curve Control will slow the vehicle down using anti-lock braking and throttle reduction.
Exterior
From a storage/space standpoint, the Escape offers terrific value. The parking break lever has been replaced by a button. As a result, smaller item storage is made available. A spacious cargo bay also exists towards the back of the vehicle. A hands-free power liftgate functions with the simple and exclusive foot sensor — which can be accessed via the center of the back bumper. Aesthetically, there are six new wheel designs — ranging in size. Headlights will be equipped with LED running lights. As such, the sleek presentation of the car gives off a very regal appearance.
Interior
The overall amounts of space within the 2020 Ford Escape is quite impressive. When both rear seats are folded back, one will accrue 68 cubic-feet of cargo space. When both seats are folded up, one still gets 34 cubic-feet of space. This is perfect for anyone frequently in need of transporting objects — such as sporting equipment, musical instruments, or those items needed on a daily basis.
There are different packages for each specific model. This includes cloth or leather trim, manual or power adjustment, and a host of other features designed to offer the driver individuality and personal comfort. The new models feature a center console with a rather deep media bin. This enables the driver and passengers to store personal items. The 3-spoke steering wheel also is offered with a heating feature. This is particularly integral for those living in less temperate climates.
Safety
When compared to previous models, the 2020 Escape safety features now offer lane departure prevention, a drowsy driver warning system, and adaptive cruise control with forward collision alert. The lane departure prevention will alert the driver of drifting into another lane. There are also advancements as it pertains to park-assist systems. The vehicle will be aided by a program steering the car into parallel and perpendicular parking spaces.
The BLIS (Blind Spot Information System) is also made available. This cross-traffic alert utilizes a radar to identify a vehicle in the driver's blind spot. The driver will be alerted with an indicator light in the exterior mirror. Should the system sense an automobile approaching from up to 15 yards away, the driver will be alerted visually and audibly. The parking advancements are particularly effective for anyone living in a highly congested area. A search for the 'perfect parking spot' is something many deal with when going out on leisure activities. Lastly, the 2020 Ford Escape earned a 5-Star Crash Safety Rating by the National Highway Traffic Safety Administration (NHTSA).
Technology
Lastly, the technological side of the 2020 Ford Escape offers much in the way of convenience. Both Android Auto smartphone integration and Apple Car Play are made available. One can remotely connect to the vehicle from any sort of smartphone. This includes accessing vehicle features such as fuel level, mileage, locking and unlocking the vehicle, and starting the vehicle at any specific time. The SYNC 3 voice-activated communication system also enables users to displays apps from any smartphone onto the dashboard touchscreen. Phone calls, navigation tools, and musical options are also present.
Overview
When it comes to crossover vehicles, the Ford Escape is in a class of its own. Very few — if any — can match the package of good fuel economy, appearance, functionality, and the technological advances that the 2020 Escape presents.
To find the best deals on this vehicle, click the button below: