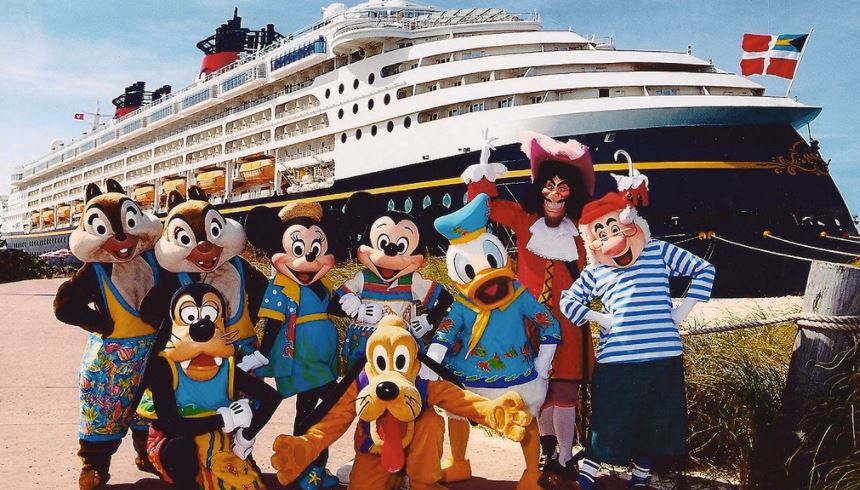 There are many ways to travel. However, taking a cruise is the most effective option made available. Excellent service and world-class dining options are provided at a very reasonable price. Why trek around narrow streets and bumpy terrain, when you can enjoy the perks of a city amidst a terrifically scenic environment? There are many scenarios in which the traveler will be able to visit multiple cities. The best part: You'll only have to unpack once! Simply put, vacationers on a cruise are offered the absolute best when it comes to complete comfort.
Here are 10 cruises which cater specifically to those traveling with their families:
Disney Magic (Castaway Cay; Bahamian private island)
Nothing screams "family" more than the Walt Disney Company brand. Via film, television, and theme parks, Disney has reached all depths of the Earth for nearly a century. The latest venture of the iconic company includes cruise liners. The Disney Magic cruise liner is widely regarded as one if — not the best option for families wanting to experience a cruise. A 5-night trip from Port Canaveral, Florida to Disney's private island of Castaway Cay in the Bahamas will start at $3,865. Disney does a fantastic job of showcasing options for people of all ages — and interests. For smaller children, there are characters (employees dressed as Disney characters) constantly making their way throughout the liner. This includes autograph sessions and meeting with children at designated kid club areas. Teenagers are gifted the opportunity to exploit the terrifically beautiful freshwater pools and waterslides. For those looking for older entertainment options, the liner provides a world-class spa-salon combination, a comfortable lounge, and also a nightclub chock-full of tasty drinks. There are countless dining halls situated around the ship, as well as live-action performances and shows. These activities are wonderful for the entire family to enjoy together.
Norwegian Dawn (Canada and New England)
Norwegian Dawn offers multiple destination packages throughout the world. With time often an issue for families in the midst of school, athletics, and other activities, Norwegian Dawn presents a brief — yet excellent — trip for those in need of a temporary getaway with the family. The 7-Day Canada-New England package is terrific for those on the upper Eastern seaboard. Beginning in Boston, families will be transported throughout the region, which includes stops in Maine, Nova Scotia, Prince Edward Island, and Quebec. Prices begin at $599 per person — which exceptional considering the newly refurbished and luxurious accommodations provided. The overarching mantra of this cruise is "freestyle cruising." This isn't a cruise liner rooted in fancy pretentiousness. The laid-back style is seen through the jovial staff. With a litany of food options and wonderful service, it truly is a great alternative for those in the region. It's short enough to the point where one can hop back into 'the real world' at a moment's notice, but also lengthy enough to suffice as a very nice reprieve from the doldrums of everyday life.
Carnival Pride (Bahamas)
Carnival Pride offers the best of both worlds for adults and children. There's a 'kids camp' located on-board — which enables children of all age groups to participate in fun-filled (and appropriate) activities. This includes movies, arts and crafts, and video gaming. Children get to load up on their favorite food items. On this fact alone, wouldn't it be nice to have your child hopped up on sugar in the care of a professional as opposed to yourself on vacation? On occasion, there's even a 'Seuss-a-Palooza' parade — where Dr. Seuss characters entertain the children with games and small skits. As for the adults, the Blueiguana Cantina will suffice quite nicely for any tequila-based drink. There's a renowned steakhouse on board, in addition to a dance club and extravagant on-board waterpark. Starting in Baltimore, there are options ranging from seven days to 10 days. A 7-Day trip starts at a paltry $439 per person.
Harmony of the Seas (Eastern Caribbean)
Harmony of the Seas is an absolute wonderland for families. The company offers trips from all over the globe, including North America, Asia, Europe, South America, and the Caribbean. Cruises lengths begin at two nights, and can reach as long as 14. A subsidiary of Royal Caribbean International, it's chief goal includes supreme customer comfort. From an activities standpoint, it became the first ship to feature the Broadway musical Grease.  For those thrill-seekers, zip-lining across the boat is available — as is the Flowrider surf simulator, the Ultimate Abyss (tallest slide at sea), The Perfect Storm waterpark, a rock climbing wall, and one could even procure scuba certification. There are 10 bars/lounges on-board — all ranging in levels of sophistication. Simply put, there's no shortage of on-boat entertainment options within the Harmony of the Seas. As an example, a 5-Night cruise originating in Miami will take guests through St. Thomas, St Maarten, and Puerto Rico. Unbelievably, it will cost approximately $279 per person.
Disney Dream (Mexico)
The warm, alluring waters of Mexico will be enhanced even further by the tremendous experience provided by Disney Dream. The 7-Night Halloween cruise throughout the Mexican Riviera is a crowd favorite. Beginning in San Diego, families will embark on a wonderful roundtrip adventure — which includes stops in Puerto Vallarta, Mazatlan, and Cabo San Lucas. A two-person room registers at a reasonable $3,260. On-board, there are three youth clubs — all featuring personalized environments based on age (one for small children, one for 'tweens', and one for teenagers). In terms of family fun, the boat offers three themed pools. There's even a secret pool — dubbed Quiet Cove — for those adults wanting some alone time. Azure is an on-board nightclub perfect for parents wanting an exciting night away from their children. There are also multiple bars and lounges throughout the boat. When factoring in the natural beauty of the Mexican surroundings, Disney Dream surely is one of the more popular cruise liners made available.
Princess Cruises (Australia & New Zealand)
The Golden Princess cruise line makes a concerted effort to provide plenty of activities for children ages 3-to-17. There are both youth centers and teen lounges available to enjoy — which include dance parties, ping pong, basketball, dodgeball, arts and crafts, dance classes, movie nights, play areas, and even mini golf. The laundry list of enticing choices enables parents and older individuals to participate in other things without having a clash in age/interests. The 8-Day cruise throughout Australia and New Zealand is truly a sight to behold. The innate beauty of each country will be on full display — as the trip can originate in either spot. One can opt for the opulence and modernity of Sydney and the surrounding areas, or the lush, scenic sites of Auckland. Once off the boat, there's plenty of family-friendly activities within the array of natural parks made available. This fantastic package starts at as low as $999 per room.
Holland America (South America & Antarctica)
Much like its competitors, Holland America is situated all over the world. Families can travel on these luxurious cruise liners throughout any of the seven continents. A most appealing trip is the 22-day excursion throughout South America and Antarctica. This exotic journey will begin in Buenos Aires, Argentina. It will then take travelers through Uruguay, the Falkland Islands, Antarctica, and Chile. On-board is Club HAL — an absolute dream for youths. The program caters to those under the age of 18. There are pajama parties, swimming events, karaoke, and all sorts of things for the younger crowd. As for teens, there's an entire deck set aside. It includes pools and a nightclub. Holland American also attempts to truly provide a wonderful experience for families. As often the case, the company will provide discounts for those planning a family reunion.

Image Source: CruiseMates